Pastor Bio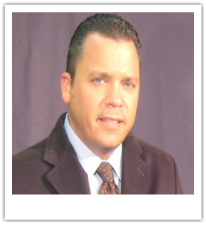 Pastor Aversa was born and raised in Syracuse, NY. He is one of two children born to the Late Nicholas J. and Mary M. Aversa. After growing up with a Catholic background, he was encouraged by his future wife to visit her grandfather's church. It was in 1988 that Nicholas formed a personal relationship with Jesus Christ by accepted Him as Lord and Savior under the tutelage of the Late Ernest J Matthews Jr. at Evangelical C.O.G.I.C. Under Pastor Matthews, Nicholas served faithfully as a member, treasurer of the Men's Department, Jr. Deacon and choir participant.

After the passing of Pastor Matthews, Evangelical was blessed with a new Pastor in the person of Kenneth W. Reed. Under Pastor Reed, Evangelical because Greater Evangelical and soared to even higher heights. While continuing to be faithful with his previous duties, Nicholas was elevated to Deacon as well as becoming Choir President. Nicholas traveled extensively with his pastor t help with revivals and various speaking engagements. In February of 1995, Nicholas preached his first sermon and later that year received his Minister's license from the Church of God in Christ of New York. Seven years later in August of 2002, Nicholas was ordained an Elder by the Late Bishop G.E. Patterson in New York Western Jurisdiction #1 recognized by the Church of God in Christ Worldwide.

Elder Aversa enjoyed teaching Sunday School and Co-Teaching the New Convert Class that he helped create, as well as the Couples Ministry that he formed with his wife under the guidance of his Pastor, along with various other duties. Elder Aversa has traveled the country evangelizing in revivals and various speaking engagements while continuing to be faithful to his local church. In October of 1996, he married his sweetheart Jeannie after a 12-year courtship. God has blessed their union with three wonderful boys, Nicholas, Paul and Samuel.

Elder Aversa has an Associate's Degree in Radio and Television from Onondaga Community College as well as a Bachelor's Degree in Human Resource Management from Empire State College. He is also a graduate of the Bethel Bible Institute. After seven plus years in the Automobile Industry, Nicholas has been employed by Carrier Corporation from the year 2000 until present. He has a wide range of customer service and sales experience and is currently employed as an Inside Sales Manager and National Account Manager in the Replacement Components Division of Carrier.

Elder Aversa enjoys preaching, music and is an avid sports fan. He enjoys spending time with his family and following his boys' various sporting activities. He has coached youth basketball and baseball. He also serves as Public Address Announcer for various high school, college and semi-professional sports teams in the Central New York area. He loves people and takes great pleasure in being a servant of the Lord. He says he's been blessed by great teaching throughout the years and continues to observe and work closely with his Pastor, Elder Kenneth W. Reed. On August 22 of 2010, he was installed as Pastor of the Greater Love in Christ Church in Syracuse, NY. Pastor Aversa believes that God has prepared him for such a time as this. He has asked the congregation to follow him as he follows Christ.

---